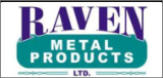 Raven Metal is pleased to announce it's newest service for the Cowicahn Valley and Greater Victoria. Mild Steel and it's related services are now
available at our Cobble Hill location. We now carry or order Alloys, Aluminum, Brass, Bronze, Cold Rolled Steel, Hot Rolled Steel, Copper, Stainless
and even Tool Grade steel. In addition Raven has added 3 new welding stations, and welders to our staff. We are able to bend, cut, or punch all grades
of steel. Our mild steel division is located on the lower floor of our shop and is already open and doing business. Touch on the link below to see what we
are carrying of each type available in lengths up to 20' but can be cut to any length.,
See how we can make your mild steel needs and custom fabrication as easy as 1,2,3.
An alloy is a combination of metals or a combination of one or more metals with non-metallic elements. For example, combining the metallic elements gold and copper
produces red gold, gold and silver becomes white gold, and silver combined with copper produces sterling silver.
Brass is an alloy of copper and zinc, in proportions which can be varied to achieve varying mechanical and
electrical properties. It is a substitutional alloy: atoms of the two constituents may replace each other within the
same crystal structure.
Brass is mainly an alloy that consists of copper with zinc added. Brasses can have varying amounts of zinc or
other elements added. These varying mixtures produce a wide range of properties and variation in color.
Increased amounts of zinc provide the material with improved strength and ductility. Brass can range in color
from red to yellow depending on the amount of zinc added to the alloy.
If the zinc content of the brass ranges from 32% to 39%, it will have increased hot-working abilities but the cold-
working will be limited.
If the brass contains over 39% zinc (example – Muntz Metal), it will have a higher strength and lower ductility
(at room temperature).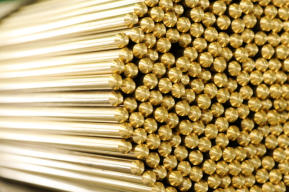 Bronze is one of the earliest metals known to man. It is defined as an alloy made of copper and another metal,
usually tin. Compositions vary, but most modern bronze is 88% copper and 12% tin. Bronze may also contain
manganese, aluminum, nickel, phosphorus, silicon, arsenic, or zinc. Although, at one time, bronze was an alloy
consisting of copper with tin and brass was an alloy of copper with zinc, modern usage has blurred the lines
between brass and bronze. Now, copper alloys generally are called brass, with bronze sometimes considered a
type of brass. To avoid confusion, museums and historical texts typically use the inclusive term "copper alloy."
In science and engineering, bronze and brass are defined according to their element composition.
Copper has been used since ancient times as a durable, corrosion resistant, and weatherproof architectural
material. Roofs, flashings, rain gutters, downspouts, domes, spires, vaults, and doors have been made from
copper for hundreds or thousands of years. Copper's architectural use has been expanded in modern times to
include interior and exterior wall cladding, building expansion joints, radio frequency shielding, and
antimicrobial and decorative indoor products such as attractive handrails, bathroom fixtures, and counter tops.
Some of copper's other important benefits as an architectural material include low thermal movement, light
weight, lightning protection, and recyclability.
The metal's distinctive natural green patina has long been coveted by architects and designers. The final
patina is a particularly durable layer that is highly resistant to atmospheric corrosion, thereby protecting the
underlying metal against further weathering.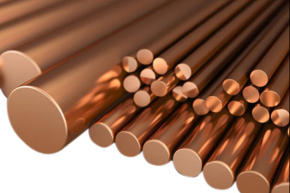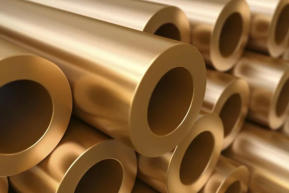 ARCHITECTURAL SHEET METAL MANUFACTURING